WE ARE HERE TO EDUCATE, INFORM, AND DISCUSS THE ISSUES OF THE DAY THAT AFFECT OUR COUNTRY AND OUR LIBERTY. WE BELIEVE IN THE FOLLOWING:
*CONSTITUTIONALLY LIMITED GOVERNMENT * FISCAL RESPONSIBILITY * TRANSPARENCY * FREE MARKETS * GOD AND COUNTRY * PARTY AFFILIATION IS NOT AN ISSUE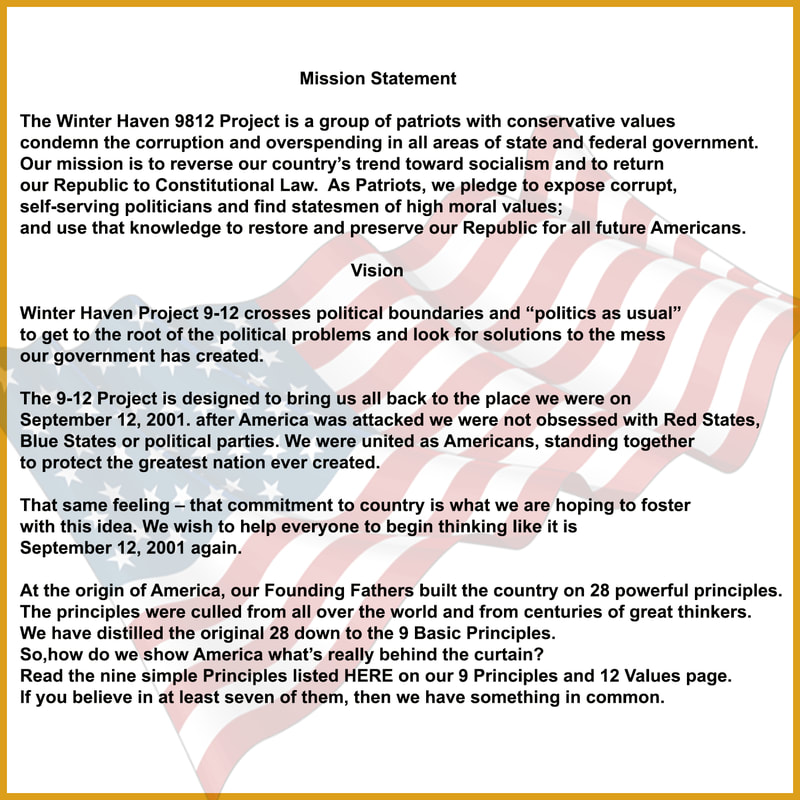 History: The Winter Haven 912 Group was formed by Steve O'Neal, Pete Smith, Ron Plouff and Dan and Peggy Dunavan in May of 2010 with an initial goal of growing a like-minded conservative group that could influence the outcome of the 2010 elections. Our initial meeting site was Perkin's Restaurant which the group quickly outgrew. We then moved to the Winter Haven Central Baptist Church Gym then the Winter Haven Chain-O-Lakes Complex and finally to our current location at Inman Park Baptist Church 1800 6th Street Northwest
Winter Haven, FL 33881. As we grew from several dozen charter members to over 400 on our active mailing list today. We became a Florida not-for-profit corporation on September 30, 2010. Current officers, board members and committee chairpersons are:

OFFICERS

President Pete Smith

Vice President Royal Brown III

Secretary Gary Wieseng

Treasurer Dan Dunavan

EXECUTIVE BOARD MEMBERS

President

Pete Smith

Steve O'Neal, Leslie Mamrosh, Royal Brown III,

Del Lawson, Ron Plouff, Dan Dunavan, Gary Wiesing

COMMITTEE CHAIRPERSONS

Education Committee: Royal Brown

Events Committee: Sue Dahl

Faith Committee: Dianne Brown

Hospitality Committee: Leslie Mamrosh

Librarian: Tari Patton

Lobby Committee: Bill Landes

Youth Action Committee: Leslie Strickland

Radio Committee: Co-Chairs: Royal Brown, Dianne Brown, Scott Allen, Tom Williams

Recruitment/Public Affairs Committee: Dick Hilliard

Issues Actions Committee: Teri Strong

MEMBERS:

Our over 400 members come from many different career backgrounds including teachers, builders ,business owners, military (including decorated combat veterans), law enforcement, fire and medical personnel, university professors, members of the media and numerous other professions. We also are represented by a variety of political parties including Republicans, Independents, Libertarians and moderate Democrats. We are affiliated with the Tea Party movement and Americans for Prosperity. We are an eclectic group with a unifying, unwavering belief in the United States Constitution and we believe our beloved Nation is on a perilous course which needs to be turned around.

ACCOMPLISHMENTS:

· Conducted seminars for members and guests on the Constitution including the Declaration of Independence, Preamble, Articles and all Amendments.

· Sued and won a Florida Supreme Court ruling that term-limits previously approved by an overwhelming majority Polk County voters are Constitutional and must be enforced by the Polk County Board of County Commissioners.

· Attended Glenn Beck's 912 Rally held in Washington, D.C. as part of over 750,000 attendees.

· Participated in Rally to Fire Nancy Pelosi led by the Republican National Committee Chairman (Note: She was fired in 2010 elections).

· Participated in numerous local and state-wide Tea Party rallies in Lakeland, Orlando, Tampa, Eustis and Tallahassee with the latest being a state-wide Florida Summit in Orlando January 25 – 27, 2013.

· Sponsored retired Arizona Sheriff Richard Mack's seminar on illegal immigration, border control and State's rights – continue to support E-Verify for all govt. agencies.

· Our actions in 2010 in support of the general Tea Party movement helped influence a very positive outcome in the 2010 US Congressional elections.

· Lobbied Florida Legislature for and against numerous bills during the legislative sessions from 2011 to date.

· Conducted Flag Rallies in support of E-Verify, our military, the Constitution and in opposition to the Dream Act.

· Participated in the Republican Debate in Orlando, November 2011 with some members helping with logistics before, during and after the debate.

· Donated to USMC Toys for Tots, the Salvation Army and wounded warriors at the James A. Haley Veteran's Medical Center each Christmas.

· Participated in Americans for Prosperity and 912 Information and Recruiting Drive at local Polls in February 2012.

· Attended Tally Rally sponsored by Americans for Prosperity in February 2012 and again in March 2013.

· Coordinated numerous prominent guest speakers on a variety of political, economic, constitutional, law enforcement and other subjects of interest to our group. Most of those who have spoken have been overwhelmingly interesting, knowledgeable, thought provoking and inspirational.

· Started a WH 912 internet radio station to address issues of the day and to promote WH 912 Project.

· Provide an active Web site and Facebook site for WH 912 and our members.

· Published numerous Letters to the Editor of the Newschief and Ledger on a wide range of subjects that support our goals and values.

· Provided a seminar on Identity Theft to our group and the Lakeland 912 group.

· Offered classes on Family, Home and Self-Defense as well as fun days on the shooting range in which safety classes are taught satisfying concealed carry requirements.

· Invited political candidates for local, county, state and federal offices from all parties to speak to our group.

· Provided members to the Polk County Republican Executive Committee (REC).

· Conducted "What Can We Do Now?" study and survey to determine WH912 member interests in issues and engage in problem solving. Make recommendations to our elected representatives at all levels.

· Participated in phone, email and letter writing campaigns to influence our state and federal legislators to sponsor and vote for legislation favorable to our WH 912 values and goals.

· Conducted Disaster Preparedness seminars and demonstrations – one in August 2012 and another in February 2013.

· Conducted Range Days in support of tax reform and the 2nd Amendment 14 April 2012 and scheduled for 13 April 2013.

· Provide active support and members to the NRA, Friends of the NRA and Oathkeeper Groups. Several dozen members have undergone NRA shooting safety classes and obtained their Florida Concealed /Carry Permits.

· Provide information to our members and other like-minded groups on current political issues through an active email campaign.

· Promote a family atmosphere and socialization among our membership in all our events including quarterly pot luck dinner meetings and annual Christmas Party.

· Hosted nationally known Sons of Liberty radio personality Bradley Lee to bring the message of his ministry to the group and visitors.

· Attend many County Board of Commissioners Meetings – helped defeat proposed measures to Tax Polk County property owners for storm water runoff – an Agenda 21 initiative and to close the so called "gun show loophole" which would have required universal registration.